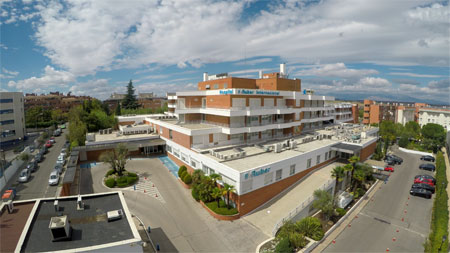 Hospital Ruber Internacional
The Hospital Ruber Internacional, it is conceived like an "integral hospital"; its Central Services, the medical-Surgical Units of the different specialties and Collaborating Doctors, are interrelated between themselves and integrated in the Hospital, there being achieved the maximum efficacy in the organization and development of the different medical, welfare, teaching and investigative activities.
A rigorous selection of the medical equipment, with sanitary personnel of the maximum experience along with the continuous endowment of the most sophisticated and effective equipment of the medical technology, they allow to offer an ideal level in the health care.
The Hospital Ruber Internacional is placed in Madrid in the residential Mirasierra area. It is possible to gain access from the M30 or the M40 for the Avda. of the Snowstorm of the Countess. It is provided with 174 comfortable single rooms with patio. If you wish you can realize a virtual visit to our facilities touching the corresponding option in the menu placed to the left and obtain details of our organization and governing organs in the same menu.